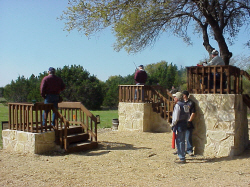 Permanent 5 Stand with stands at different heights for great practice.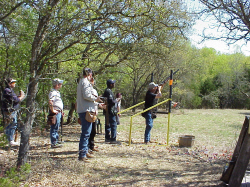 Varied Sporting Clays course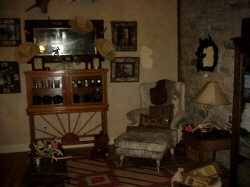 So many interesting accents made for an interesting and exciting stay!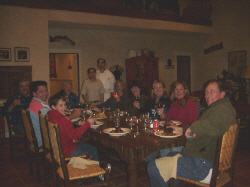 Gourmet dining casual style. The service and food couldn't be better.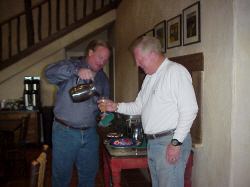 A delicious buffet breakfast greeted us the next morning.
Leaving Saturday afternoon from Capitol City's TX Challenge II Shoot, we traveled the 130 miles to WB Ranch at Lake Whitney to stay the night and shoot a sporting clays competition there the following morning. This was our first time visiting WB, but it certainly won't be our last!
WB has a beautiful lodge set on 2000 acres. The Sporting Clays course and 5 Stand are set up with top notch equipment. Dove Hunts, Turkey Hunts, Quail, Pheasant, Chukar and Hungarian Partridge hunts, are all available with professional guides. Guided fishing on Lake Whitney and the Brazos River is available too.
Since a group of us decided to stay over Saturday night to shoot the course on Sunday, we chose to have dinner at the Lodge. What a pleasant surprise. Dinner had to be one of the most delicious gourmet meals I've ever eaten. I had heard the chef was excellent. I can attest to that fact now too.
We were taken on a tour of the Lodge and thoroughly enjoyed the little touches of decor everywhere. We saw trophy game on the walls, interesting western lighting fixtures, photographs, old wooden furniture, leather sofas. Obviously, special attention was paid to every detail. The atmosphere makes you feel at home and relaxed.
I see in their brochure that WB Ranch releases between 3,000 and 5,000 Quail every August and September into their release sites. This allows them to establish coveys and adapt to their surroundings. Imagine... birds that can flush and fly!
They've got an interesting list of side events for conferences too. Cooking demonstrations, hayrides, horseback riding, team building sports, photography expeditions, canoeing, trail bike rides, hiking, karaoke, casino parties, and more.
The hospitality, wonderful accommodations, and delicious food made us feel like we had been on a vacation. If you have an opportunity to visit WB Ranch, grab it! You won't be disappointed.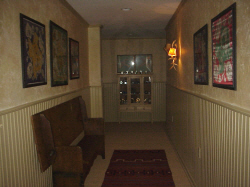 Walk down a subdued & relaxing corridor to your room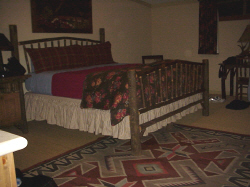 Designed with Ralph Lauren linens and accessories, this room was as comfortable as it looks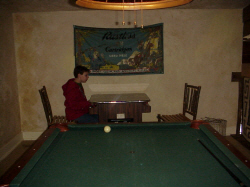 Pool & Video game room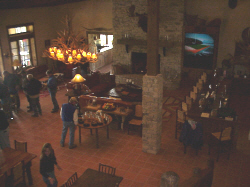 Views of the cozy lodge with its leather sofas, bar, fresh fruit, warm fireplace, Satellite TV