WE ARE
ShootersPages.com

The Directory for
TX, LA, OK, FL, MS, NE, NM, AR, AZ, IA
Trap, Skeet, Sporting Clays Rifle, Pistol, Archery, Hunting

Email
shooterspages@gmail.com


ATTENTION - SHOOTERSPAGES.COM NEW POLICY
Fun Shoots (unregistered shoots) will now be listed for free on the calendars! Clubs may list up to two events in any week READ ON REA(
Our intention, with the ShootersPages.com website, is to promote the shooting sports.
Supporting the clubs & organizations is one of the best ways to assure we continue to have plenty of great shooting venues.


Check our calendar
CAPITOL CITY
AUSTIN TX
OPEN WED-SUN
9AM - 7PM
(6PM WINTER)
512-272-4707
EMAIL ; WEBSITE
4 Skeet / 2 Trap
Wobble Trap
TWO COURSES
Sporting Clays
5 Stand Leagues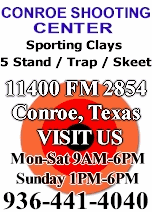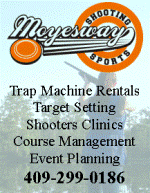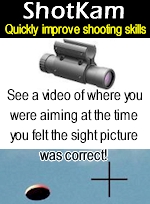 Our sponsors keep this site FREE! Please check them out.
SAT
01/01/11
Port of the Island

s

Naples
NEW YEAR OPENER

NSCA

SUN
01/02/11
Square One Sporting
Lake Placid
JANUARY OPEN

NSCA

SAT
01/08/11
Middleditch's Sporting Clays
Land O' Lakes
JANUARY CHILLER

NSCA

SUN
01/09/11
Quail Creek Plantation
Okeechobee
BOB WHITE BLAST

NSCA

SAT
01/15/11
Indian River Trap & Skeet
Vero Beach
MID WINTER WARM UP

NSCA

SUN
01/16/11
Bradford Sportsmen's Farm
Graham
NEW YEARS BLAST

NSCA

SUN
01/16/11
Fishhawk Sporting Clays
Lithia
RESOLUTION SHOOT

NSCA

SUN
01/16/11
Markham Skeet Trap & S/C
Sunrise
SNOW BIRD OPEN

NSCA

SAT
01/22/11
Port Malabar Rifle/Pistol


cancelled

PALM BAY
SHOOT FOR A CURE

NSCA

SAT
01/22/11
Sarasota Trap,Skeet,Clays
Nokomis
SNOW BIRD OPEN

NSCA

SAT
01/22/11
W W Sporting Clays
Jacksonville
WINTER WARMUP

NSCA

SAT
01/22/11

So. Florida Shooting Club

Palm City

GET TO KNOW US SHOOT

NSCA

SUN
01/23/11
Amelia Shotgun Sports
Yulee
WOOLLEY OPENER

NSCA

SUN
01/23/11
Square One Sporting
Lake Placid
GUMBO SHOOT

NSCA

FRI

01/

28

/11
Quail Creek Plantation
Okeechobee

ST. THOMAS AQUINAS

UNREG

SAT
01/29/11
Indian River Trap & Skeet
Vero Beach
SUN UP SHOOT

NSCA

SAT
01/29/11
Quail Creek Plantation
Okeechobee
ME'S TEAM FUNDRAISER PRESS

UNREG

SUN
01/30/11
Fishhawk Sporting Clays
Lithia
FISHHAWK OPEN

NSCA

SAT
02/05/11
Indian River Trap & Skeet
Vero Beach
FEBRUARY FIESTA

NSCA

SAT
02/05/11
Port of the Islands
Naples
CHILI COOKOFF AND SHOOTOUT

NSCA

SAT
02/05/11
Shoal River Sporting Clays
Crestview
CHILLY CHICKEN

NSCA

SAT
02/05/11
Square One Sporting
Lake Placid
W

AUCHULA KIWANIS

UNREG

SAT
02/05/11
Quail Creek Plantation
Okeechobee

HIBISCUS CHILDRENS

UNREG

SAT
02/05/11
Sarasota Trap

,

Skeet

,Clays

Nokomis

4-H FOUNDATION

UNREG

SUN
02/06/11
Markham Skeet Trap & S/C
Sunrise
HONEST ABE'S BIRTHDAY BASH

NSCA

SUN
02/06/11
Middleditch's Sporting Clays
Land O' Lakes
ALMOST VALENTINES SHOOT

NSCA

THU-
SUN
02/10/11-
02/13/10
Rhino Outdoors
Williston
RHINO RALLY

canceled

NSCA

SAT
02/12/11
Sarasota Trap

,

Skeet

,Clays

Nokomis
SWEETHEART SHOOT

NSCA

SAT
02/12/11
Square One Sporting
Lake Placid
Ft. Meade C

OC

UNREG

SAT-
SUN
0

2/12

/11-
02/13/11
Bradford Sportsmen's Farm
Graham

BRADFORD

BLAST

-OFF

NSCA

WED
02/16/11
Amelia Shotgun Sports
Yulee
MID-WEEK BREA

K

NSCA

WED-
SUN
02/16/11-
02/20/11
Quail Creek Plantation
Okeechobee
SEMINOLE CUP

NSCA

SAT
02/1

9

/11
Square One Sporting
Lake Placid
Lake Placid Middle School Athletics Assoc

UNREG

TUE

02/22/11

Fishhawk Sporting Clays

Lithia

CARIB

B

EAN

WARM-UP

NSCA

WED
02/23/11
Amelia Shotgun Sports
Yulee
MID-WEEK BREAK

NSCA

THU-
SUN
02/24/11-
02/27/11
Indian River Trap & Skeet
Vero Beach
CARIB

B

EAN CLA

S

SIC

NSCA
FRI

03/04/11

Sarasota Trap,Skeet,Clays
Nokomis
SARASOTA COC PRESS

UNREG

SAT
03/05/11
Amelia Shotgun Sports
Yulee
PRESIDENT JACKSON

NSCA

SAT
03/05/11
Fishhawk Sporting Clays
Lithia
MARCH MADNESS

NSCA

SAT
03/05/11
Port of the Islands
Naples
GATOR MATE

NSCA

SAT
03/05/11
Quail Creek Plantation
Okeechobee

HOSPICE FUN SHOOT

UNREG

SUN
03/06/11
Square One Sporting
Lake Placid
HIGHLANDS CO

.

OPEN

NSCA

SAT
03/12/11
Indian River Trap & Skeet
Vero Beach
I

RTS

MARCH CHALLENGE

NSCA

SAT
03/12/11
Middleditch's Sporting
Land O' Lakes
MIDDLO'S BIRTHDAY BASH

NSCA

SUN
03/13/11
Bradford Sportsmen's Farm
Graham

ID

ES OF MARCH SHOOT AM/PM

NSCA

SUN
03/13/11

Polk Sporting Clays

Lakeland

BREEZY BASH

NSCA

WED
03/16/11
Amelia Shotgun Sports
Yulee
MID-WEEK BREAK

NSCA

FRI

03/

18

/11
Quail Creek Plantation
Okeechobee

TREASURE COAST BUILDERS ASSOC

UNREG

SAT

03/

19

/11
Quail Creek Plantation
Okeechobee

TREASURED LANDS

UNREG

SAT
03/19/11
Markham Skeet Trap & S/C
Sunrise
ST PATRICK'S DAY OPEN

NSCA

SAT
03/19/11
Sarasota Trap,Skeet,Clays
Nokomis
WINDY DAYS OPEN

NSCA

SAT
03/19/11
Square One Sporting
Lake Placid

INTERLAKE ACADEMY

UNREG

SUN
03/20/11
Quail Creek Plantation
Okeechobee
COVEY RISE

NSCA

SAT
03/26/11
Square One Sporting
Lake Placid
NO FOOLIN' SHOOT

NSCA

SAT
03/26/11
Quail Creek Plantation
Okeechobee

ST. LUCIE CO. FARM BUREAU

UNREG

SUN
03/27/11
Amelia Shotgun Sports
Yulee
ST PATRICK'S SHOOT

NSCA

SUN
03/27/11
Fishhawk Sporting Clays
Lithia
MARCH TRIPLE EVENT

NSCA

SUN
03/27/11
Port of the Islands
Naples
NFL ALUMNI CHARITY SHOOT

UNREG
SAT
04/02/11
Middleditch's Sporting Clays
Land O' Lakes
AFTER THE FOOL SHOOT

NSCA

SAT
04/02/11
Port of the Islands
Naples
CLAYS IN THE GLADES

NSCA

SAT
04/02/11
W W Sporting Clays
Jacksonville
FLORIDA STATE WARMUP

NSCA

SAT
0

4/02

/11
Quail Creek Plantation
Okeechobee

YOUNG GUNS SHOOT

UNREG

SUN
0

4/0

3/11

Polk Sporting Clays

Lakeland

FL STATE SHOOT WARM-UP

NSCA

SUN
0

4/0

3/11

So. Florida Shooting Club

Palm City

PONY EXPRESS SHOOT

NSCA

FRI-
SUN
04/08/11-
04/10/11
Bradford Sportsmen's Farm
Graham
FLORIDA STATE CHAMP

NSCA

SAT
0

4/09

/11
Square One Sporting
Lake Placid
B

IG BROTHERS BIG SISTERS

UNREG

SAT
0

4/09

/11
Quail Creek Plantation
Okeechobee

RAY KEMPFER MEMORIAL

UNREG

SAT
0

4/09

/11
Quail Creek Plantation
Okeechobee

TOM ROONEY

UNREG

SAT
0

4/09

/11
Sarasota Trap,Skeet,Clays
Nokomis
CPC HELPING MEALS ON WHEELS

UNREG

SAT
04/

16

/11
Tampa Bay Sporting Clays
Land O' Lakes
BRING A FRIEND SHOOT

AM/PM

NSCA

SAT
0

4/16

/11
Quail Creek Plantation
Okeechobee

HIGHLANDS CO. FARM BUREAU

UNREG

SAT
0

4/16

/11
Rhino Outdoors
Williston
T

RI COUNTY BENEFIT SHOOT

UNREG

SUN
04/17/11
Amelia Shotgun Sports
Yulee
BLAST THE TAX AM/PM

NSCA

SUN
04/17/11
Fishhawk Sporting Clays
Lithia
APRIL SHOWERS AM/PM

NSCA

SUN
04/17/11
Markham Skeet Trap & S/C
Sunrise
SPRING BLAST

NSCA

SUN
04/17/11
Square One Sporting
Lake Placid
SHOWER ME WITH CLAYS
Scholastic shoot open only to Juniors & Sub Juniors

NSCA

SAT
04/23/11
Quail Creek Plantation
Okeechobee
BUNNY HOP SHOOT

NSCA

SAT
04/23/11
Shoal River Sporting Clays
Crestview
APRIL SHOWERS

NSCA

SAT
04/23/11
W W Sporting Clays
Jacksonville

cancelled

NSCA

SUN
04/24/11
Indian River Trap & Skeet
Vero Beach
TAX DAY SHOOT

NSCA

FRI

04/29/11
W W Sporting Clays
Jacksonville

SHOOT FOR JUSTICE

UNREG

SAT
04/

30

/11
Sarasota Trap,Skeet,Clays
Nokomis
SNOW BIRD SEND-OFF

NSCA

SAT
0

4/30

/11
Square One Sporting
Lake Placid
D

ESOTO

C

OC

UNREG

SUN
05/01/11
Port of the Islands
Naples
SPRING SWAMPSHOOTOUT

NSCA

SAT
05/07/11
Quail Creek Plantation
Okeechobee
ROBERT SANCHEZ MEMORIAL

NSCA

SAT
05/07/11
Rhino Outdoors
Williston
TWO FOR ONE AND ONE HALF AM/PM

NSCA

SAT
05/07/11
Shoal River Sporting Clays
Crestview
SPRING FORWARD

NSCA

SAT
05/14/11
Fishhawk Sporting Clays
Lithia
MAY CLASSIC

NSCA

SAT
05/14/11
W W Sporting Clays
Jacksonville
WW SPRING FLING

NSCA

SUN
05/15/11
Bradford Sportsmen's Farm
Graham
NORTH FLORIDA CLASSIC

NSCA

SUN
05/15/11
Indian River Trap & Skeet
Vero Beach
INDIAN RIVER FUN SHOOT

NSCA

SAT
05/21/11
Rhino Outdoors
Williston
MAY MADNESS AM/PM

NSCA

SAT
05/21/11
Square One Sporting
Lake Placid
OPEN CLASSIC

NSCA

SUN
05/22/11
Amelia Shotgun Sports
Yulee
SHRIMP FEST AM/PM

NSCA

SUN
05/22/11
Markham Skeet Trap & S/C
Sunrise
MEMORIAL DAY OPEN

NSCA

SUN
0

5/22

/11

Polk Sporting Clays

Lakeland

MAY OPEN

NSCA

SAT
05/28/11
Sarasota Trap,Skeet,Clays
Nokomis
MUD TURTLE BASH

NSCA
SAT
08/06/11
Rhino Outdoors
Williston
THE HEAT IS ON

NSCA

SAT
08/

06

/11
Quail Creek Plantation
Okeechobee
THE MUGGY BUGGY

NSCA

SUN
08/07/11
Fishhawk Sporting Clays
Lithia
BALMY SHOOT

NSCA

SUN
08/1

3

/11-
08/14/11
Middleditch's Sporting Clays
Land O' Lakes
SUMMER HOLIDAYS SHOOT

NSCA

SAT
08/20/11
Markham Skeet Trap & S/C
Sunrise
SUMMERS END OPEN

NSCA

SAT
08/20/11
Amelia Shotgun Sports
Yulee
SUMMER FUN AM/PM

NSCA

SUN
08/21/11
Bradford Sportsmen's Farm
Graham
DOG DAZE CLASSIC AM/PM

NSCA

SAT
08/27/11
Rhino Outdoors
Williston

CANCELLED

NSCA

SAT
08/27/11
Sarasota Trap,Skeet,Clays
Nokomis
WILD ROSE OPEN

NSCA

SUN
0

8/28

/11

Polk Sporting Clays

Lakeland

THE QUIGLEY

NSCA
SAT-
SUN
09/03/11-
09/04/11
Middleditch's Sporting Clays
Land O' Lakes
MIDDLO'S MADNESS

NSCA

SAT
09/10/11
Fishhawk Sporting Clays
Lithia
PRE-DOVE WARM UP

NSCA

SAT
09/17/11
Bradford Sportsmen's Farm
Graham
REGISTERED SHOOT

NSCA

SAT
09/17/11
Quail Creek Plantation
Okeechobee
THE GATOR CHALLENGE

NSCA

SUN
09/18/11
Indian River Trap & Skeet
Vero Beach
ZONE 4 WARMUP

NSCA

SUN
09/18/11
Sarasota Trap,Skeet,Clays
Nokomis
FALL OPEN

NSCA

SAT
09/24/11
Rhino Outdoors
Williston

CANCELLED

NSCA

SAT
09/24/11
W W Sporting Clays
Jacksonville
HUNTERS WARMUP

NSCA

SAT
09/24/11

So. Florida Shooting Club

Palm City

REGISTERED SHOOT

NSCA

SUN
09/25/11
Amelia Shotgun Sports
Yulee
START OF THE COOL AM/PM

NSCA

SUN
09/25/11
Square One Sporting
Lake Placid
HARVEST MOON SHOOT

NSCA
SAT
10/01/11
Indian River Trap & Skeet
Vero Beach
WITCHEY WOMAN SHOOT

NSCA

SUN
10/0

2

/11
Fishhawk Sporting Clays
Lithia
OCTOBER SHOOT

NSCA

SAT
10/08/11
Markham Skeet Trap & S/C
Sunrise

cancelled due to weather

NSCA

SAT
10/08/11
Middleditch's Sporting Clays
Land O' Lakes
MIDDLO'S MADNESS COOLDOWN AM/PM

NSCA

SAT
10/08/11
Sarasota Trap,Skeet,Clays
Nokomis
C

RACKER FUN SHOOT

UNREG

SUN
10/09/11
Bradford Sportsmen's Farm
Graham
HALLOWEEN BLAST AM/PM

NSCA

SUN
10/09/11

So. Florida Shooting Club

Palm City

REGISTERED SHOOT

NSCA

SAT
10/15/11
Quail Creek Plantation
Okeechobee
QUAIL CREEK CLASSIC

NSCA

SAT
10/15/11
Shoal River Sporting Clays
Crestview
HALLOWEEN FLING

NSCA

SAT
10/15/11
Bradford Sportsmen's Farm
Graham
NTWF SHOOT

NSCA

S

AT

1

0/15

/11
Fishhawk Sporting Clays
Lithia
S

PECIAL FORCES CHARITY SHOOT

UNREG
SUN
10/16/11
Port of the Islands
Naples
FALL SWAMP SHOOT

NSCA

SUN
10/16/11

Polk Sporting Clays

Lakeland

FALL CLASSIC

NSCA

SAT
10/22/11
Rhino Outdoors
Williston
FALL FRENZY

cancelled

NSCA

SAT
10/22/11
Square One Sporting
Lake Placid
BOO BLAST

NSCA

SUN
10/23/11
Sarasota Trap,Skeet,Clays
Nokomis
PUMPKIN OPEN

NSCA

SAT
10/29/11
Fishhawk Sporting Clays
Lithia
FALLING LEAF CLASSIC


(Prize Giveaway!)

NSCA

SUN
10/30/11
Amelia Shotgun Sports
Yulee
SPOOKY BLAST AM/PM

NSCA

SUN
10/30/11
OK Corral Gun Club
Okeechobee
FIRST REGISTERED SHOOT

NSCA
S

AT

11/05/11
Middleditch's Sporting Clays
Land O' Lakes
BUTTERBALL SHOOT AM/PM

NSCA

SAT
11/05/11
W W Sporting Clays
Jacksonville
HOLIDAY SEASON CLASSIC

NSCA

SUN
11/06/11
Bradford Sportsmen's Farm
Graham
THANKSGIVING CLASSIC AM/PM

NSCA

SUN
11/06/11
Quail Creek Plantation
Okeechobee
BIG BUCK BLAST

NSCA

SAT
11/12/11
Indian River Trap & Skeet
Vero Beach
DRUMSTICKS SHOOT

NSCA

SAT
11/12/11
Bradford Sportsmen's Farm
Graham

WINTER

SHOOTOUT

NSCA

SUN
11/13/11
Markham Skeet Trap & S/C
Sunrise
9TH ANNUAL SOUTH FLORIDA CHALLENGE

NSCA

SUN
11/13/11
Fishhawk Sporting Clays
Lithia
P

RE-FROST-SHOOT

NSCA

SAT
11/19/11
Square One Sporting
Lake Placid
FRIED TURKEY SHOOT

NSCA

SUN
11/20/11
Port of the Islands
Naples
TURKEY TROT

NSCA

SUN

11/20

/11

Polk Sporting Clays

Lakeland

TURKEY TROT SHOOT

NSCA

WED

1

1/23

/11
OK Corral Gun Club
Okeechobee

THANKSGIVING EVE SHOOTOUT

UNREG

FRI

11/25

/11
Sarasota Trap,Skeet,Clays
Nokomis
50 TARGET FITASC

NSCA

SAT
11/26/11
Sarasota Trap,Skeet,Clays
Nokomis
TURKEY TROT BASH

NSCA

SAT
11/

26

/11

So. Florida Shooting Club

Palm City

REGISTERED SHOOT

NSCA

SUN
11/27/11
Amelia Shotgun Sports
Yulee
GOBBLER SPECIAL AM/PM

NSCA

SUN
11/27/11
Fishhawk Sporting Clays
Lithia
POINTS NEEDED SHOOT

AM/PAM

(Prize Giveaway!)

NSCA
SAT
12/03/11
Rhino Outdoors
Williston

CANCELLED

NSCA

SAT
12/03/11
Shoal River Sporting Clays
Crestview
SANTA'S WORKSHOP

NSCA

SAT
12/03/11
OK Corral Gun Club
Okeechobee
WINTER CLASSIC

NSCA

SUN
12/04/11
Middleditch's Sporting Clays
Land O' Lakes
DECEMBER SHOOT

NSCA

SUN
12/04/11

So. Florida Shooting Club

Palm City

REGISTERED SHOOT

NSCA

SAT
12/10/11
Indian River Trap & Skeet
Vero Beach
HAPPY HOLIDAYS SHOOT

NSCA

SAT
12/10/11
Tampa Bay Sporting Clays
Land O' Lakes
HO HO HO SHOOT

NSCA

S

AT

12/1

0

/11
Port of the Islands
Naples
JINGLE BELL SHOOT

NSCA

S

AT

12/1

0

/11
Quail Creek Plantation
Okeechobee
H

IGHLANDS CO. CITRUS GROWERS ASSOC.

UNREG

SUN
12/11/11
Bradford Sportsmen's Farm
Graham
HOLIDAYS FUN SHOOT AM/PM

NSCA

SUN
12/11/11
Quail Creek Plantation
Okeechobee
THE FIREWALL BLAST

NSCA

SAT
12/17/11
Fishhawk Sporting Clays
Lithia
CHRISTMAS IS COMING


(Prize Giveaway!)

NSCA

SUN
12/18/11
Amelia Shotgun Sports
Yulee
SANTA'S OWN AM/PM

NSCA

SUN
12/18/11
Square One Sporting
Lake Placid
OUT WITH A BANG SHOOT

NSCA

MON

12/26

/11

OK Corral

Okeechobee
AFTER CHRISTMAS SHOOT

NSCA

FRI

12/30

/11
Sarasota Trap,Skeet,Clays
Nokomis

50 TARGET FITASC

NSCA

SAT
12/31/11
Markham Skeet Trap & S/C
Sunrise
BUD WOLFE CLASSIC

NSCA

SAT
12/31/11
Sarasota Trap,Skeet,Clays
Nokomis
HOLIDAY BASH

NSCA
Page updated: Friday August 21, 2015 07:24 AM